Sergeant Ernest Alvarez is from the Bronx (New York). He came to the United States as a young boy, from Puerto Rico. He remembers Peurto Rico fondly as a beautiful countryside, dotted with peaceful Catholic Churches and comfortable farmhouses.
When he was 17, he joined the Army and became a member of the 101st Airborne Division. His native intelligence and hard work eventually took him from being in the infantry to being a helicopter mechanic, and finally, to being a pilot.
Sent to Iraq immediately after the initial invasion, his job required flying over a large territory. On a flight near the small village of Sinjar in northern Iraq, he saw that a stray bomb had landed at a farm just outside of town. Landing at the scene of devastation he found the sole survivor, a two year-old child. Against standing orders, he flew the wounded child to a hospital staffed by Médicins Sans Frontières (Doctors Without Borders), where he met the woman of his dreams, a French Doctor named Yvette Prigent.
Upon return to his base near Baghdad, Alvarez was placed under house arrest for disobeying orders and eventually busted down to Sergeant.
In Part One of the novel, he is introduced to Yussef by Dr. Prigent, after Yussef has accomplished a dangerous mission on behalf of the hospital. Alvarez immediately decides to help Yussef find his family.
The problem is that he is on restricted duty and was only allowed to fly his Blackhawk into the desert as a "routine maintenance flight". Thinking that he can take Yussef on a quick trip north without it causing a problem, his plan goes awry when the helicopter is shot down and he is wounded and both he and Yussef are captured by "insurgents".
Aided by one of the "insurgents" (a former UC, Santa Cruz student), Alvarez and Yussef escape. They are taken by pick-up truck towards the American camp at Buhayrat ath Tharthar (a lake in central Iraq). Along the way, they encounter a ghostly figure in the mountains who is referred to as the "Ancient One". The Ancient One tends to the wounded Alvarez, who has been halucinating from pain and infection during the truck ride.
Upon their arrival at the Buhayrat ath Tharthar camp, Alvarez is placed under "house arrest" once more. Part One ends with him musing that he will be busted down to "Private" Alvarez.
But as Part Two opens, it is a newly commissioned Chief Warrant Officer Alvarez who lands near Yussef's home in rural Iraq to ask Yussef's sister, Nadia, for help with a very specific mission.
It seems that the good deed that Alvarez did by reuniting Yussef's family at Buhayrat ath Tharthar turned into a "PR" (publicity) opportunity for the American Army and instead of court martialling the Sergeant, he was promoted.
In Part Two, Chief Alvarez works with Nadia and a British hostage-rescue team in Samarra. Alvarez is called on to do much more than is usual for his job as a pilot and must rely on his early infantry training to help with the rescue mission.
In the end, he mentions to Yussef that he plans to return to the US one day and hopes to live in Los Angeles. He plants the seed that Yussef might consider being his guest in the US one day - and even that Yussef might think about going to UCLA. Seeds of a dream have been planted.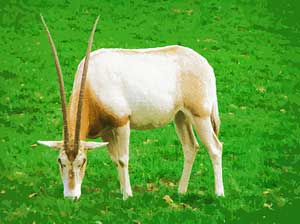 The Arabian Oryx appears in dreams and hallucinations that Alvarez suffers while wounded and being transported back to an American base in the back of a pick-up truck. The Oryx seems to appear along with a Catholic priest that Alvarez remembers from his childhood in Puerto Rico.